Mobile-friendly site focusing on providing information to clients
&

being found better in search engines.
Soil Solutions, LLC was a website that existed before, but they wanted to expand and have an updated look, get better results in search engines, and update some of the site themselves.
Heartland Internet Solutions worked with them to take the content they already had and move it into a newly designed site.  We then created their admin area to allow them to "blog".  By Blogging they are creating more content for the search engines and in turn may be found better.
We worked closely with their email host to make sure when everything was transferred over to us for their website that their emails would not go down or "break".  Heartland Internet Solutions also hosts an additional domain name for them to ensure that it doesn't get picked up by a competitor.
In 2019, Bob had a graphic designer friend put together a new logo and design for them.  Heartland had no problems converting those thoughts into reality!
Thank you Bob for allowing Heartland Internet Solutions to be your website provider!
Products used:  Website Package & Additional Domain Name
Client since:  2015
We are very happy with our services through Heartland Internet Solutions. Our rep, Trisha Ryken, did a great job designing our website. She is always very prompt and courteous whenever we need changes or updates to our website. We are very pleased with everything Heartland Internet Solutions offers.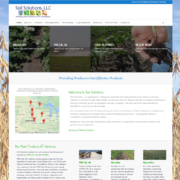 Andrea
Soil Solutions, LLC
© 2009-2023 Heartland Internet Solutions, LLC. All Rights Reserved.