Responsive, member based website focused on providing Member News
&

giving consumers a resource in the homebuilding industry.
South Dakota Home Builders Association came to Heartland Internet Solutions unhappy with their old website and the inability to proactively update it.
Heartland Internet Solutions took their information and created a site that allows members to login and see private information, consumers to have a resource to find people in the home building industry and local associations to update their own calendar events with an admin area that is secure and user friendly.
Heartland Internet Solutions has also trained many of their staffers to use the website admin area.  We setup and trained them in how to send Mass Emails through Mail Chimp and we have helped them understand PayPal and setup payment options as needed.  We currently host their professional Email Accounts and offer setup help for them while setting email up on tablets, phones and desktop email clients.
Thank you South Dakota Home Builders Association for selecting Heartland Internet Solutions for your website and email needs!  We look forward continuing to update their site and offer consulting when needed.
Products used:  Website Package, Email Account and Consulting
Redesigned:  2018
Client since:  2014
THIS LOOKS GREAT!!!!!!  I love it!!! I'm so excited to inform the EO's also that they can use our website hyperlink for their members for an updated list!!! Love that you incorporate pictures with key people on our front home page! Love that you were able to add the Facebook items on the bottom of the Home Page too!!!
Let's Launch!!!!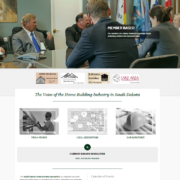 Natasha
EVP, South Dakota Home Builders Association
1
Menu for quick and easy access…
2
Scrolling information to get attention.
© 2009-2023 Heartland Internet Solutions, LLC. All Rights Reserved.