Simple html based website, that is part of the ElectAir Company business
&

focuses on letting clients know what they do.
Power Source Electric offers exceptional service in Residential, Commercial, Industrial and Farmstead electrical needs. They are competitive with their pricing and welcome you to check them out! With over 45 years of electrical experience and the equipment needed for large jobs, they don't think you will be disappointed.
As one of the ElectAir, Inc., companies, their look was designed around the other sites to show continuity within the business and encourage clients to use and visit their other sites.
Power Source Electric wanted to let clients know their different electrical services, where they are located, how to call them and hours they are open! Heartland Internet Solutions was happy to help!
Products used:  Website Package
Client since:  2010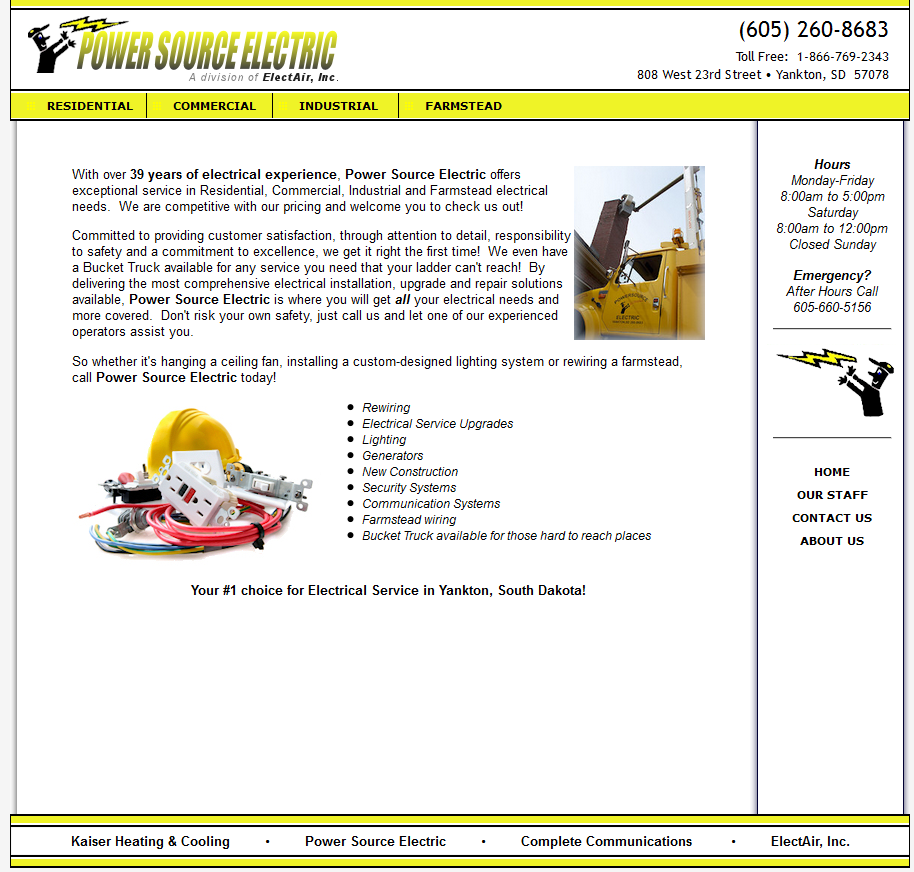 1
Show Visitors their other Companies.
2
Use of colors that reflect company.
3
Make sure visitors know what they can do.
Heartland Internet Solutions
512 Mulberry St.
Yankton, SD 57078
(605) 360-6485
support@heartlandinternetsolutions.com
Providing Professional Web Design & Development while applying honest business practices along with holding ourselves to the highest integrity when working with others.
We have the Midwest Mentality at Heart!
© 2009-2019 Heartland Internet Solutions, LLC. All Rights Reserved.