One of our first redesigned Mobile-Friendly sites! Focused on responsive design
&

user friendly, while showing the companies capabilities!
Kaiser's Heating & Cooling was the first website done after ElectAir's Landing Page was up and running!
Originally the design was a HTML based design that resembled the other websites done for this company.  The redesign was initiated in 2014 by Heartland Internet Solutions to bring Kaiser's Heating & Cooling up to date as far as a responsive design and being mobile-friendly!
We took into account items that had been encountered through the 4 years of their original site, and implemented those needs on the new site!  With a clean crisp design, Kaiser's also utilizes our Content Delivery Network system to make their site load faster.
We also worked closely with Kaiser's to get a domain name transferred from a national company that was holding the domain.  Not always a simple process, but we stayed on top of it until we could get their KaiserHVAC.com domain name into our systems so that Kaiser's can be confident they won't lose a crucial domain name that was being advertised in a number of places.
Thanks to Kaiser's Heating & Cooling owners and employees, this site turned out great!
Products used:  Website Package & Additional Domain Names
Client since:  2010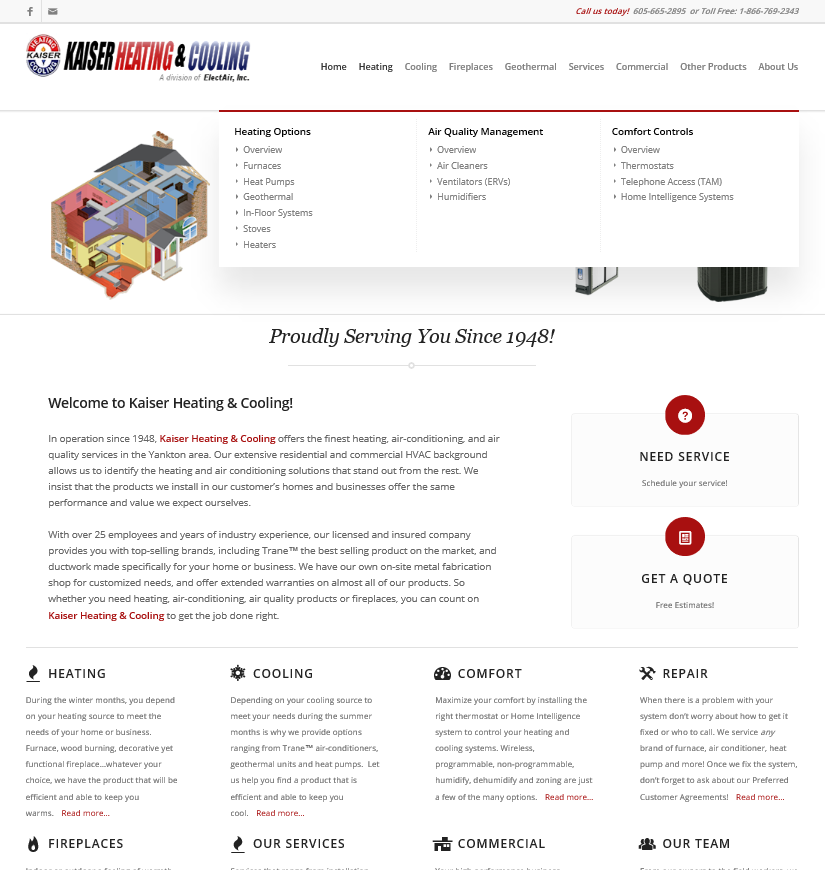 1
Show visitors a quick way to get ahold of Kaisers.
2
Use of "mega" menus to show clients more options at a time.
3
Use of slider to engage users.
Heartland Internet Solutions
512 Mulberry St.
Yankton, SD 57078
(605) 360-6485
support@heartlandinternetsolutions.com
Providing Professional Web Design & Development while applying honest business practices along with holding ourselves to the highest integrity when working with others.
We have the Midwest Mentality at Heart!
© 2009-2019 Heartland Internet Solutions, LLC. All Rights Reserved.