Our first client with multi-website needs! ElectAir, Inc. is a Landing Page directing you to their multiple businesses!
ElectAir, Inc. is made up of three companies, Kaiser's Heating & Cooling, Power Source Electric and Complete Communications.  The main domain is more of a Landing Page to help build Search Engine Optimization and direct their potential clients to their other businesses as well.
Initially, they wanted a uniform look across all three websites as well as a landing page which would take you to each of the three different companies. They also wanted to retain some individuality for each or the three different companies.  Kaiser's Heating & Cooling has since been redesigned with a responsive look for mobile-friendly needs, but the others still their original design and show similarity between all sites.
Thanks to Doug and Chris for selecting Heartland for their website needs!
Products used:  Website
Client since:  2010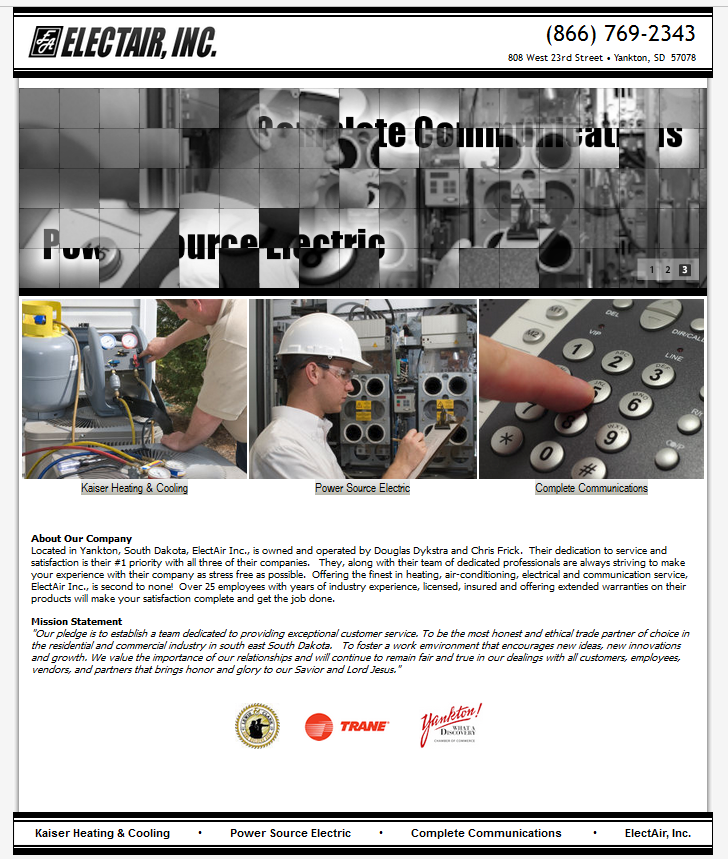 1
Provide contact information in eye sight!
2
Provide immediate access to companies they are associated with.
Heartland Internet Solutions
512 Mulberry St.
Yankton, SD 57078
(605) 360-6485
support@heartlandinternetsolutions.com
Providing Professional Web Design & Development while applying honest business practices along with holding ourselves to the highest integrity when working with others.
We have the Midwest Mentality at Heart!
© 2009-2019 Heartland Internet Solutions, LLC. All Rights Reserved.