Responsive website focused on letting clients know their location
&

hours, plus an easy way to request an appointment!
Chris Dickes Family Dentistry was utilizing a "national" company that had sold them on the fact that they could get them to the "top" of the search engines.  The problem they encountered was they were only given certain rights to their website and one of those rights that was denied was the phone number was to another company which would then forward the calls to the office.  They couldn't change hardly anything!
Heartland Internet Solutions worked with them and created a site that they could control.  We implemented easy contact forms on almost every page that allows clients to setup an appointment quickly, plus we built out their services pages so that potential clients know what they do.  They also requested that their New Patient Forms be found on the site shortly after the website was released and Heartland was only too happy to make that happen!
Once they switched over, we also retrieved, www.yanktondentalcare.com, the domain name from the "national" company for Chris Dickes Family Dentistry in case they ever wanted to use that domain name for expansion or utilize the search engine perks of that type of domain name.
Thank you Chris for selecting Heartland Internet Solutions for your website needs.  We enjoy working with you!
Products used:  Website Package & Additional Domain Name
Client since:  2015
I highly recommend Heartland Internet Solutions. Trisha has made the process of getting a professional website easy and works fast to respond to any questions or changes you might need.
Jen
Chris Dickes Family Dentistry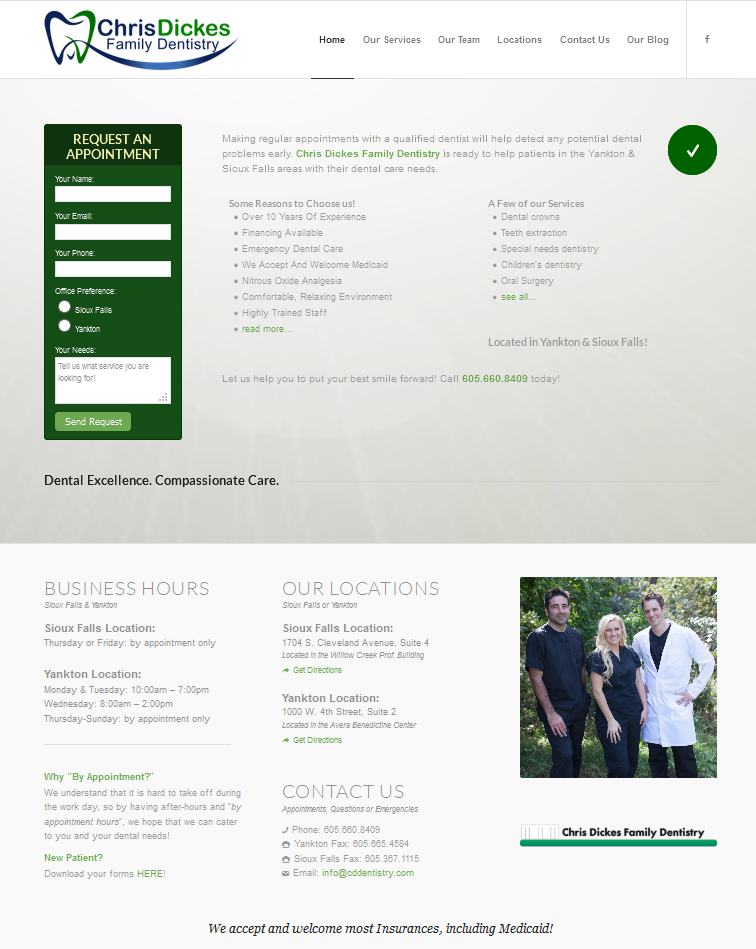 2
Quick and easy contact for appointments.
3
Location, Hours & Contact Information.
Heartland Internet Solutions
512 Mulberry St.
Yankton, SD 57078
(605) 689-0129
support@heartlandinternetsolutions.com
Providing Professional Web Design & Development while applying honest business practices along with holding ourselves to the highest integrity when working with others.
We have the Midwest Mentality at Heart!
© 2009-2018 Heartland Internet Solutions, LLC. All Rights Reserved.